2018-19 Performing Arts Series ticket information
More performances, options and bigger discounts!
This year's regular Performing Arts Series Season Ticket Package includes six concerts, with four concerts being the same for everyone:
Four core performances are set for each season ticket
Choose two additional performances from the remaining choices. Of course, you can add as many of the remaining performances as you would like to customize your season ticket package.
The more performances you choose, the bigger the discount on your season ticket package! Choose the basic, six ticket package and receive a 5% discount. Choose 7-8 performances and receive a 8% discount. Choose 9-10 performances and receive a 10% discount, and when you choose all 11, you receive a 12% discount, for a savings of up to $60!
Where: Sauder Concert Hall
Price: $45, $40, $35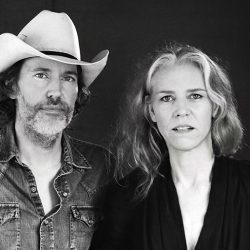 Tue, Oct 09th @ 8:00 pm — Sauder Concert Hall
Gillian Welch's rich and remarkable career spans over twenty years, and is a pillar of the modern acoustic music world. After moving to Nashville in the early 1990s, Welch was launched into the public consciousness when Emmylou Harris recorded a cover of Welch's "Orphan Girl." Her career continued to flourish as her 1996 debut Revival, produced by T Bone Burnett, was released to critical acclaim. Firmly on the roots music map following the release, Welch followed up that Grammy nominated album release with 1998's Hell Among The Yearlings, a stark duet record with partner David Rawlings, further solidifying the duo as a force in the folk music scene. When Welch served as executive producer as well as a performer on the eight times platinum O Brother, Where Art Thou? soundtrack, she was awarded the Album of the Year Grammy Award win, and was simultaneously nominated for her own Time (The Revelator)
Where: Sauder Concert Hall
Price: $50, $45, $35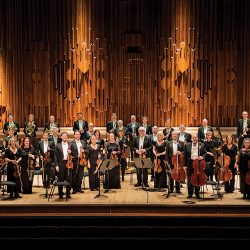 Wed, Feb 27th @ 7:30 pm — Sauder Concert Hall
The Academy of St. Martin in the Fields — formed by Sir Neville Marriner in 1958 from a group of leading London musicians — is one of the world's greatest chamber orchestras, renowned for fresh, brilliant interpretations of the world's greatest classical music. Today, the Academy is led by music director and virtuoso violinist Joshua Bell, and retains the collegiate spirit and flexibility of the original small, conductor-less ensemble which has become an Academy hallmark. This tour marks the celebration of the orchestra's 60th anniversary and will feature Jeremy Denk, a MacArthur 'Genius' and one of America's foremost pianists, performing Mozart Piano Concerto No 12.
Where: Sauder Concert Hall
Price: $55, $50, $40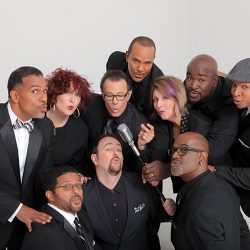 Sat, Apr 13th @ 7:30 pm — Sauder Concert Hall
The Summit: The Manhattan Transfer meets Take 6 is one of the most unique and thrilling musical collaborations ever assembled. With twenty Grammy Awards between them, these two musically iconic groups have joined forces to perform together. Unlike other music co-bills or meetings, The Manhattan Transfer and Take 6 were not content to sing a set and simply join each other for a finale. They have created musical moments on-stage – singing and performing nearly a dozen songs together – during this show. You will experience the creativity, excitement, and renowned performances that only two phenomenal groups can bring to one stage, in-the-moment.
Where: Sauder Concert Hall
Price: $64/$59/$48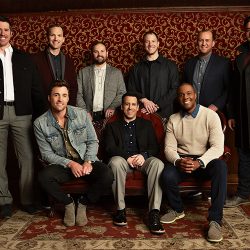 Mon, Apr 22nd @ 7:30 pm — Sauder Concert Hall
If the phrase "male a cappella group" conjures up an image of students in blue blazers, ties, and khakis singing traditional college songs on ivied campuses… think again. Straight No Chaser (SNC) are neither strait-laced nor straight-faced, but neither are they vaudeville-style kitsch. They have emerged as a phenomenon with a massive fanbase, numerous national TV appearances and proven success with CD releases. Straight No Chaser is the real deal, the captivating sound of nine unadulterated human voices coming together to make extraordinary music that is moving people in a fundamental sense… and with a sense of humor. On the road, Straight No Chaser has built a reputation as an unforgettable live act.
New discounts available for season ticket purchases!
The prices listed for each show are full price, but by purchasing a season ticket package, you receive a discount based on the number of shows you select. The more shows you choose, the larger the discount!
Here's how it works:
6 performances = 5% discount on your season package total
7-8 performances = 8% discount on your season package total
9-10 performances = 10% discount on your season package total
11 performances = 12% discount on your season package total
Discount children's tickets for the FROGZ! performances. The Imago Theater performance of FROGZ! will be exciting and entertaining for all ages, so we would like to make it easier for you to bring children (under age 18) to attend. With your season ticket package, you can select FROGZ! as one of your shows, and then indicate the number of additional, non- package, $10 children's tickets you would like to add.
Where: Sauder Concert Hall
Price: $40, $35, $25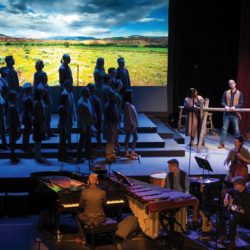 Fri, Sep 14th @ 7:30 pm — Sauder Concert Hall
Described as "brilliant," "powerful," "innovative," "dazzling" and "gripping," when it debuted at #4 on Billboard's Traditional Classical Chart, Considering Matthew Shepard, showcases the Grammy Award-winning artistry of Conspirare's singers performing a concert-length fusion oratorio with song, chamber instrumentation and projected media. Led by artistic director and composer Craig Hella Johnson, this work is a musical response to the tragic death that sparked a revolution in our understanding of hate crime legislation. Jason Marsden, executive director of the Matthew Shepard Foundation, calls it "the most intricate, beautiful and unyielding artistic response to this notorious anti-gay hate crime." This performance marks the return of Conspirare to Sauder Concert Hall, where this work was originally recorded.
Where: Sauder Concert Hall
Price: $45, $40, $30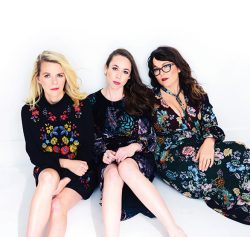 Sat, Nov 03rd @ 7:30 pm — Sauder Concert Hall
A band of extraordinary chemistry and exquisite musicianship, I'm With Her features Sara Watkins, Sarah Jarosz and Aoife O'Donovan. Collectively, the multi-Grammy Award-winners have released nine solo efforts, co-founded two seminal bands (Nickel Creek and Crooked Still) and contributed to critically- acclaimed albums from a host of esteemed artists. But from its very first moments, their full-length debut See You Around reveals the commitment to creating a wholly-unified band sound. With each track born from close songwriting collaboration, I'm With Her builds an ineffable magic from their finespun narratives and breathtaking harmonies. NPR asserts they "know how to gather round a microphone and sing directly from their heart to yours. Purity is the brilliance behind I'm With Her."
Where: Sauder Concert Hall
Price: $45, $40, $30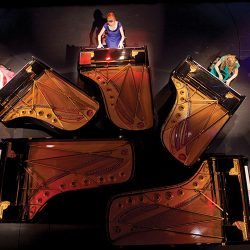 Sat, Dec 15th @ 7:30 pm — Sauder Concert Hall
The 5 Browns are delivering on their dream to wake up classical music by introducing it to the widest, largest and most excited audience they can find. Brothers and sisters Ryan, Melody, Gregory, Deondra and Desirae are the first family of five siblings ever accepted simultaneously to New York's Juilliard School, and have released three CDs that each went to #1 on Billboard Magazine's Classical Album Chart. The New York Post has proclaimed: "One family, five pianos and 50 fingers add up to the biggest classical music sensation in years." Whether performing individually or together, The 5 Browns reveal a deep connection to the intent of their material while bringing a fresh energy and dynamic character to the color and tonal spectrum of their sound.
Where: Umble Center
Price: $35, $30, $25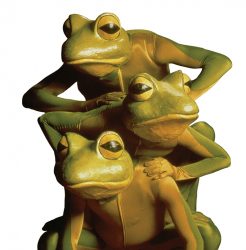 Multiple Dates — Umble Center
Internationally acclaimed for its special brand of vaudeville, comedy, illusions and Cirque Du Soleil-evoking acrobatics, Portland-based Imago Theatre is bringing their classic favorite FROGZ! to Goshen's Umble Center for two performances. FROGZ! combines mime, dance, original music and special effects to create a menagerie like no other — frogs, lizards, windbags, cowboys, sloths and penguins fill the stage with wit, wonder and mesmerizing Felliniesque mayhem. Imago's wordless productions are hailed by critics and audiences worldwide. The New York Times declares "Theatre like this opens the eyes to the possibilities of exploration in the vast realm of the imagination. Inspired fun!" Sophisticated, universally appealing and highly entertaining, FROGZ! has fans of all ages returning again and again.
Where: Sauder Concert Hall
Price: $40, $35, $25
Tue, Feb 19th @ 7:30 pm — Sauder Concert Hall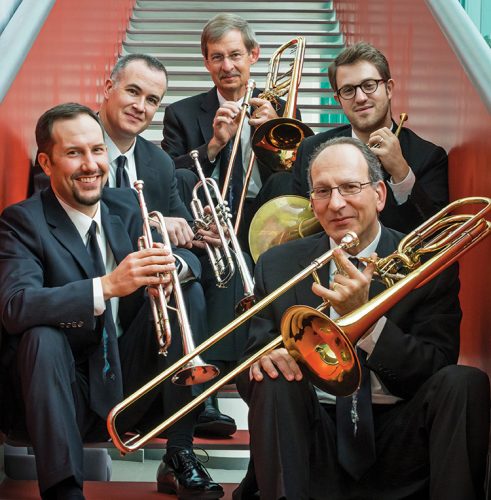 Exploring of the rich Spanish tradition of music for voice and brass, The American Brass Quintet and Grammy-nominated vocal ensemble Seraphic Fire join together for a journey across Spain's storied Camino de Santiago via the music of Victoria, Morales, Guerrero and a world-premiere of O Antiphons by Australian-Canadian composer Julian Revie. Led by Founder and Artistic Director Patrick Dupré Quigley, Miami-based Seraphic Fire brings top ensemble singers and instrumentalists from around the country to present high-quality performances of under-performed music with cultural significance. The American Brass Quintet, committed to the promotion of brass chamber music through performance and education for more than 50 years, is internationally recognized as one of the premier chamber music ensembles of our time and celebrated for peerless leadership in the brass world.
Where: Sauder Concert Hall
Price: $40, $35, $25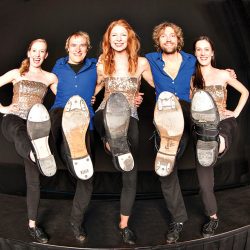 Fri, Mar 29th @ 7:30 pm — Sauder Concert Hall
The unbelievably dynamic and entertaining dance troupe The Step Crew combines three styles of percussive dance — Irish, Tap and Ottawa Valley — to achieve the ultimate balance of respecting traditional forms of dance and creating exciting modern fusions never seen before. With virtuosic performers from the likes of The Chieftains, Cherish The Ladies and Bowfire, this cast of outstanding talent takes you on a dance journey to show audiences the amazing similarities and differences between these three captivating styles. If dancing weren't enough, The Step Crew boasts three world-class fiddlers backed by an amazing five-piece ensemble comprised of some of the most talented and respected musicians in the Celtic music scene today. The show will have the audience literally on its feet!
Where: Sauder Concert Hall
Price: $40, $35, $25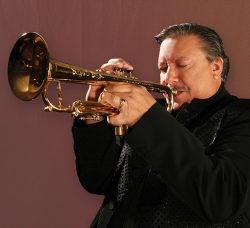 Sat, May 18th @ 7:30 pm — Sauder Concert Hall
A protégé of the legendary jazz master Dizzy Gillespie, Cuban-American jazz trumpeter, pianist and composer Arturo Sandoval has evolved into one of the world's most acknowledged guardians of jazz trumpet and flugelhorn. This Latin jazz pioneer and 10-time Grammy Award-winner delivers dynamic and vivacious live performances with his sextet, captivating audiences with his lyrical improvisation and virtuoso capabilities. In addition to his 19 Grammy nominations, he has received six Billboard Awards as well as an Emmy Award for his underscore composition for the HBO movie based on his life, "For Love or Country," in which Andy Garcia portrays Sandoval.
Steps to submit your order form
1. Choose your preferred seating section
Find the column that corresponds to your seating choice (see page 17 to choose) and check the box next to A, B, or C. (The same seating section applies to all your show choices.) There are more details you will need to fill out about seating choice on page 16 of the series brochure.
2.  Choose your shows
Four CORE shows are already selected. Please select (check the box) 2 or more shows to complete your season package. Or select all the shows (line 14), receive the biggest discount and skip the calculations! Be sure to indicate your date preference for Imago Theater.
3.  Choose your payment option
OPTION A: Full payment now. Calculate your season ticket price by:
Add the prices of your selections to the core prices (line 12). Write the total in line 13.
Identify the corresponding discount (line 15) and calculate the discounted amount (line 16).
Subtract the discount (line 17).
Indicate the number of season ticket packages (line 18).
Calculate your subtotal (line 19).
Add any extra tickets for IMago Theater (line 20).
Add the processing fee (line 21).
Write the total amount (line 22).
OPTION B: Calculate your deposit amount only – number of season tickets times $25, and we will bill you for the balance. If you would like Imago Theater tickets please indicate your date preferences in line 8 and the number of extra tickets (ages 18 and under) in line 21. Don't worry about the calculations, we'll do the math for you.
Individual Tickets On Sale August 6, 2018 at 9 a.m.
Tickets for individual Performing Arts Series concerts as available will be made available for sale to the public beginning  Monday, August 6, 2018 at 9:00 a.m. Ticket prices are listed as Section-A/Section-B/Section-C.  Goshen College cannot guarantee that tickets will be available in all sections for all shows.
To purchase online on or after Friday, August 6, please click the "Order Online" link beside the show that you would like to purchase, or visit the Goshen College Box Office for an overview of all available concerts.  You may also call the Goshen College Welcome Center at (574) 535-7566. VISA/MasterCard/Discover accepted.
The Goshen College Box Office is open Monday – Friday, 9:00 a.m. – 1:00 p.m.
Ordering Schedule for Performing Arts 2018-19 Season
Additional details:
Season tickets go on sale to the public on June 7, 2018. A non-refundable deposit (price varies depending on package details) will hold season tickets and seat preference. Full payment is due July 13, 2018.
Seats will be assigned according to date received.
Individual tickets, if available, go on sale Monday, August 6, 2018, at the Box Office.
All tickets will be mailed. A shipping and handling fee of $3.00 will be added to each order.
Tickets may be reserved by mail, phone, fax or by visiting the Box Office, located in the Goshen College Music Center. Tickets may be purchased with Discover, Visa, Mastercard or by writing a personal check payable to Goshen College. See address, phone, fax number below. All season tickets will be mailed.
Tickets Are Non-refundable
If you cannot attend a performance, please make sure that your tickets are used to avoid empty seats at sold-out performances.
Donate Tickets Back
If tickets are donated back to the Box Office at least one week in advance of the concert, a charitable donation may be taken.
Cancellation of performance
We reserve the right to make date changes or substitute a concert of similar quality if the performance cannot proceed because of circumstances beyond our control.
Be In Seats at Starting Time
Doors to the concert hall will close promptly at starting time. Latecomers will be asked to wait in the lobby until an appropriate entrance time.
Handicapped Accessibility
Notice of special needs (wheelchair, no steps or sight impairment) should be addressed when tickets are purchased. The concert hall offers accessible and companion seating in a variety of prices and locations dispersed throughout the auditorium. One companion seat per patron will be sold. All seats are sold on a first-come, first served basis. Listening devices are available in the lobby and do not require specific seating assignments.
Walk-up Sales
Tickets, where available, are available for individual concerts at the Goshen College Box Office, located in the Goshen College Music Center. Office hours are 9:00 a.m. – 1:00 p.m. Monday through Friday.
Ticket Revenues
Ticket revenues help support educational outreach opportunities provided by some artists.
Goshen College Box Office
Located in the Goshen College Music Center
1700 South Main Street, Goshen, IN 46526
(574) 535-7566 · Fax: (574) 535-7949