Carrie Newcomer Online Concert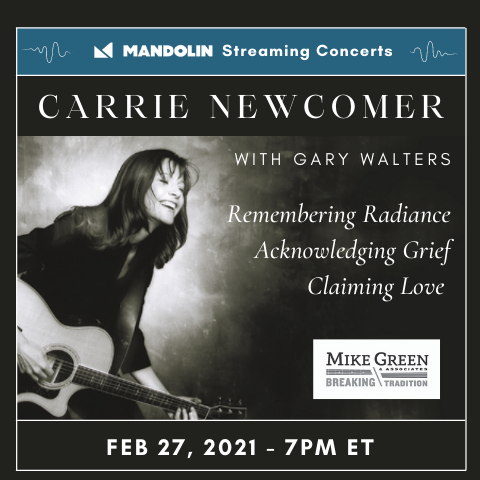 "We cannot just be healed, we must be transformed."
Carrie Newcomer in Concert:
Remembering Radiance, Acknowledging Grief, Claiming Love
Saturday, February 27, 2021
7:00 p.m. ET
The Goshen College Music Center is pleased to be able to offer this online concert by Carrie Newcomer to our patrons! This online concert will be streamed at the date and time indicated on Mandolin Streaming. A portion of ticket sales purchased through this link will benefit the Goshen College Music Center.
Tickets:
$20 – single ticket
$30 – family/household ticket
$10 – student ticket
$50 – music/arts supporter
A small ticketing fee and credit card fees will apply.
Carrie Newcomer is a performer, recording artist, and educator, described as a "prairie mystic" by the Boston Globe and one who "asks all the right questions" by Rolling Stone. Her song "I Should've Known Better" appeared on Nickel Creek's Grammy award-winning gold-certified album "This Side", and she earned a regional Emmy for the PBS special "An Evening with Carrie Newcomer."
Carrie is the 2019 recipient of the Shalem Institute Contemplative Voices Award. Recent media appearances include PBS's Religion and Ethics and Krista Tippett's On Being. In the fall of 2009 and 2011 Newcomer was a cultural ambassador to India, invited by the American Embassy of India, resulting in her interfaith collaborative benefit album Everything is Everywhere with world master of the Indian Sarod, Amjad Ali Khan and his sons Ayan and Amaan. In 2012 and 2013 Carrie traveled to Kenya and the Middle East performing in schools, spiritual communities and AIDS hospitals. Carrie has 17 nationally released albums on Available Light and Rounder Records, including The Point of Arrival, The Beautiful Not Yet, A Permeable Life, and Everything is Everywhere. Newcomer has also released two companion books of poetry and essays, A Permeable Life: Poems and Essays and The Beautiful Not Yet: Poems, Essays, & Lyrics. Newcomer's first theatrical production, Betty's Diner: The Musical, was performed at a sold out run at Purdue University in 2015 and is now available to interested theaters, universities, and spiritual communities.
In 2016 Carrie presented the Goshen College commencement address and was awarded an honorary degree in Music for Social Change. She regularly works with Parker J. Palmer in live programs, including Healing the Heart of Democracy: A Gathering of Spirits for the Common Good and What We Need is Here: Hope, Hard Times, and Human Possibility. Newcomer and Palmer also are actively collaborating on The Growing Edge, a website, podcast, and retreat. Spirituality and Health Magazine named The Growing Edge collaboration as one of the top ten spiritual leaders and programs for the next 20 years. Three of Newcomer's songs are included in Palmer's newest book. Other special collaborations include presentations with neuroscientist Jill Bolte Taylor, author Rabbi Sandy Sasso, and environmental author Scott Russell Sanders. Carrie lives in the woods of southern Indiana with her husband and two shaggy dogs.