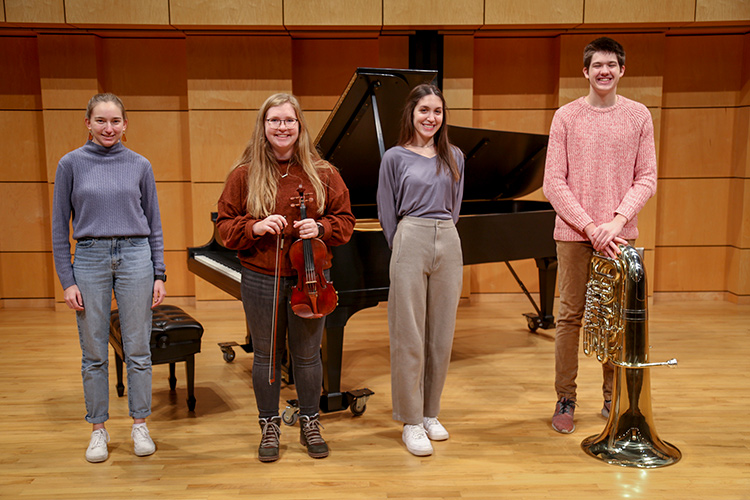 Four student winners of the 2021-22 Goshen College Concerto-Aria Competition will perform their winning pieces with the GC Symphony Orchestra, conducted by Brian Mast.
The winners are (left to right):
Hannah Lehman, piano — Beethoven Piano Concerto NO. 3 in C minor, Op. 37, mvt. 1
Caroline Greaser, violin — Vieuxtemps Violin Concerto No. 5
Augusta Nafziger, soprano — Bernstein "Glitter and Be Gay" from Candide
Isaac Fisher, tuba — Bruce Broughton Tuba Concerto, mvt. 1-2
Performance: 62nd Annual Concerto-Aria Concert
Series: Music Dept/Music Center Concerts
Date: February 19, 2022 @ 7:30 pm
Location: Sauder Concert Hall
Pricing: $12 adults, $8 seniors/students. GC employees/students free with ID.
Tickets: Available January 17, 2022 at the Box Office or by phone at (574) 535-7566
Purchase Tickets for 62nd Annual Concerto-Aria Concert
Notes about this event:
For the safety of our patrons, artists and staff, the following precautions are being observed in response to COVID-19:
At this time, all patrons and staff will be required to wear face masks while indoors on campus. We will continually monitor and adjust the need for this requirement based on county vaccination rates and transmission rates.

At this time, we will not be limiting seating capacity. Extra seats can be purchased if you would like additional buffer seating.

The performance venues are well ventilated and air is exchanged frequently.

The facilities will be thoroughly cleaned before and after each performance, and hand sanitizing stations will be provided throughout the facility.

All event staff are required to complete a daily wellness check before coming to work.

We ask that all guests follow recommendations from the CDC and do not attend a show if you have a fever, cough or respiratory symptoms, or have recently been in contact with someone who was sick.
We will continue to monitor the pandemic throughout the coming months, and make adjustments on safety protocols based on local health guidelines, transmission and vaccination rates.