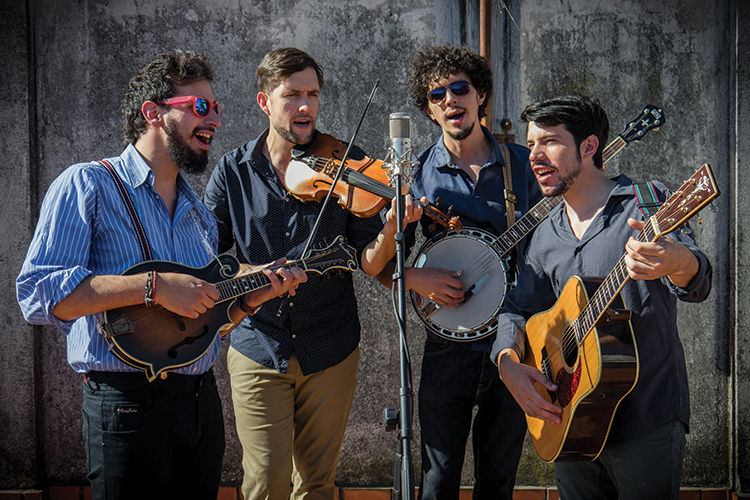 Argentina-based, four-man string band Che Apalache combines instrumental prowess with tight vocal harmonies to create an authentic blend of bluegrass and Latin American genres, evoking images from Appalachia to the Andes. Their debut album, "Latingrass," is a testament to a powerful cultural and musical exchange.
With members from Argentina, Mexico and the United States, the group's founder Joe Troop (fiddle) is a North Carolinian multi-instrumentalist, singer- songwriter and composer who moved to Argentina in 2010. There, he met his future compatriots — Pau Barjau (banjo), Franco Martino (guitar) and Martin Bobrik (mandolin) — who make up Che Apalache. In 2017, the band received grants from the North Carolina Humanities Council and the Virginia Foundation for the Humanities to tour the United States, and were awarded first place in the Neo-Traditional Band Competition at the Appalachian String Band Music Festival in Clifftop, West Virginia. Their second album will be produced by 16-time Grammy Award winning banjoist Béla Fleck.
Performance: Che Apalache
Series: 2019-20 Performing Arts Series
Date: March 13, 2020 @ 7:30 pm
Location: Sauder Concert Hall
Pricing: $30, $25, $20
Tickets: Available August 6, 2019 at the Box Office or by phone at (574) 535-7566
Purchase Tickets for Che Apalache
Notes about this event:
Series tickets are available beginning May 18, 2019 by calling the Goshen College Box Office at (574) 535-7566. Individual tickets for this show, if available, will go on sale to the general public on Tuesday, August 6, 2019.