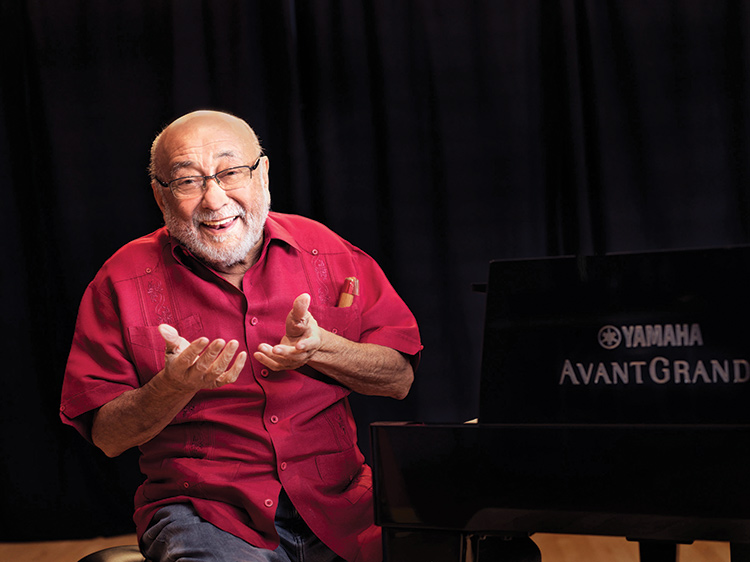 Due to unforeseen circumstances, the date of the Eddie Palmieri concert has changed from October 1, 2022 to May 12, 2023. Current ticket holders' tickets will work for the new date.
Known as one of the finest pianists of the past 60 years, eight-time GRAMMY® Award winner Eddie Palmieri is a bandleader, arranger and composer of salsa and Latin jazz. His playing skillfully fuses the rhythm of his Puerto Rican heritage with the complexity of his jazz influences: Thelonious Monk, Herbie Hancock, McCoy Tyner, as well as his older brother, Charlie Palmieri.
Palmieri's parents emigrated from Ponce, Puerto Rico to New York City in 1926. Born in Spanish Harlem and raised in the Bronx, Palmieri learned to play the piano at an early age, and at 13, he joined his uncle's orchestra, playing timbales.
Performance: Eddie Palmieri Latin Jazz Band
Series: 2022-23 Performing Arts Series
Date: May 12, 2023 @ 7:30 pm
Location: Sauder Concert Hall
Pricing: $40/35/30
Tickets: Available at the Box Office or by phone at (574) 535-7566
Purchase Tickets for Eddie Palmieri Latin Jazz Band
Notes about this event:
Individual tickets, if available, will go on sale Tuesday, Aug. 2, 2022 at the Goshen College Box Office or by ordering online at goshen.edu/tickets