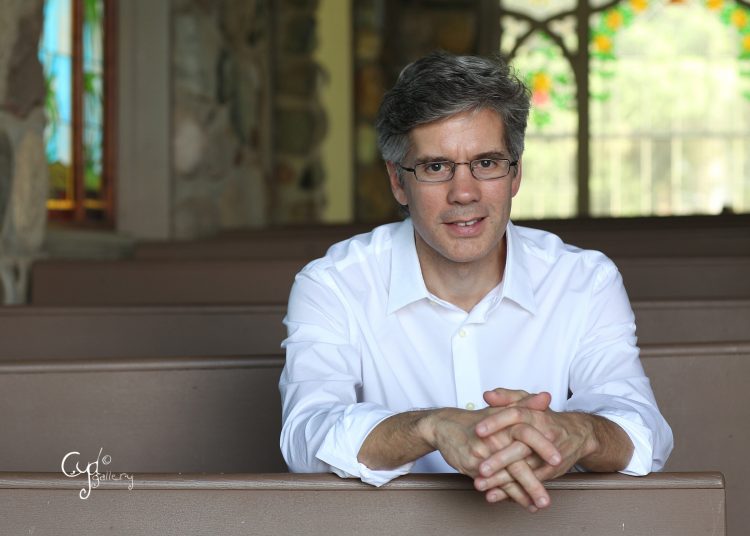 Goshen College Professor of Music and pianist Matthew Hill will present a solo piano recital in Rieth Recital Hall.
Matthew Hill, DMA, pianist and Goshen College professor of music, is chair of the music department and teaches piano, chamber music, music history, and as a result of the strong influence from his wife and daughter, also teaches a general education course in Opera and Musical Theatre. He has studied with such renowned musicians as Howard Karp and Claude Frank, whose respective pedagogical genealogies include Rosina Lhévinne and Arthur Schnabel. He has had a variety of teaching and performing experiences both nationally and Internationally. Dr. Hill participated at the Schlern International Music Festival held in the Dolomites of northern Italy through invitation as a teacher, performer, and master class clinician. In China, he taught a series of master classes at the Sichuan Conservatory of Music, and presented a solo recital. Matthew received his doctorate in piano performance at University of Wisconsin- Madison. His students have gone on to further graduate study at many different graduate schools, including Kansas City Conservatory of Music, Cleveland Institute of Music, University of Wisconsin-Madison, University of Nebraska- Lincoln, University of Oklahoma, Westminster Choir College, and the University of South Florida.
Performance: Faculty Recital: Matthew Hill, solo piano
Series: Music Dept/Music Center Concerts
Date: November 5, 2021 @ 7:30 pm
Location: Rieth Recital Hall
Pricing: $8 adults, $6 seniors/students. GC faculty/staff/students free with ID.
Tickets: Available September 20, 2021 at the Box Office or by phone at (574) 535-7566
Purchase Tickets for Faculty Recital: Matthew Hill, solo piano
Notes about this event:
For the safety of our patrons, artists and staff, the following precautions are being observed in response to COVID-19:
At this time, all patrons and staff will be required to wear face masks while indoors on campus. We will continually monitor and adjust the need for this requirement based on county vaccination rates and transmission rates.
At this time, we will not be limiting seating capacity. Extra seats can be purchased if you would like additional buffer seating.
The performance venues are well ventilated and air is exchanged frequently.
The facilities will be thoroughly cleaned before and after each performance, and hand sanitizing stations will be provided throughout the facility.
All event staff are required to complete a daily wellness check before coming to work.
We ask that all guests follow recommendations from the CDC and do not attend a show if you have a fever, cough or respiratory symptoms, or have recently been in contact with someone who was sick.
We will continue to monitor the pandemic throughout the coming months, and make adjustments on safety protocols based on local health guidelines, transmission and vaccination rates.