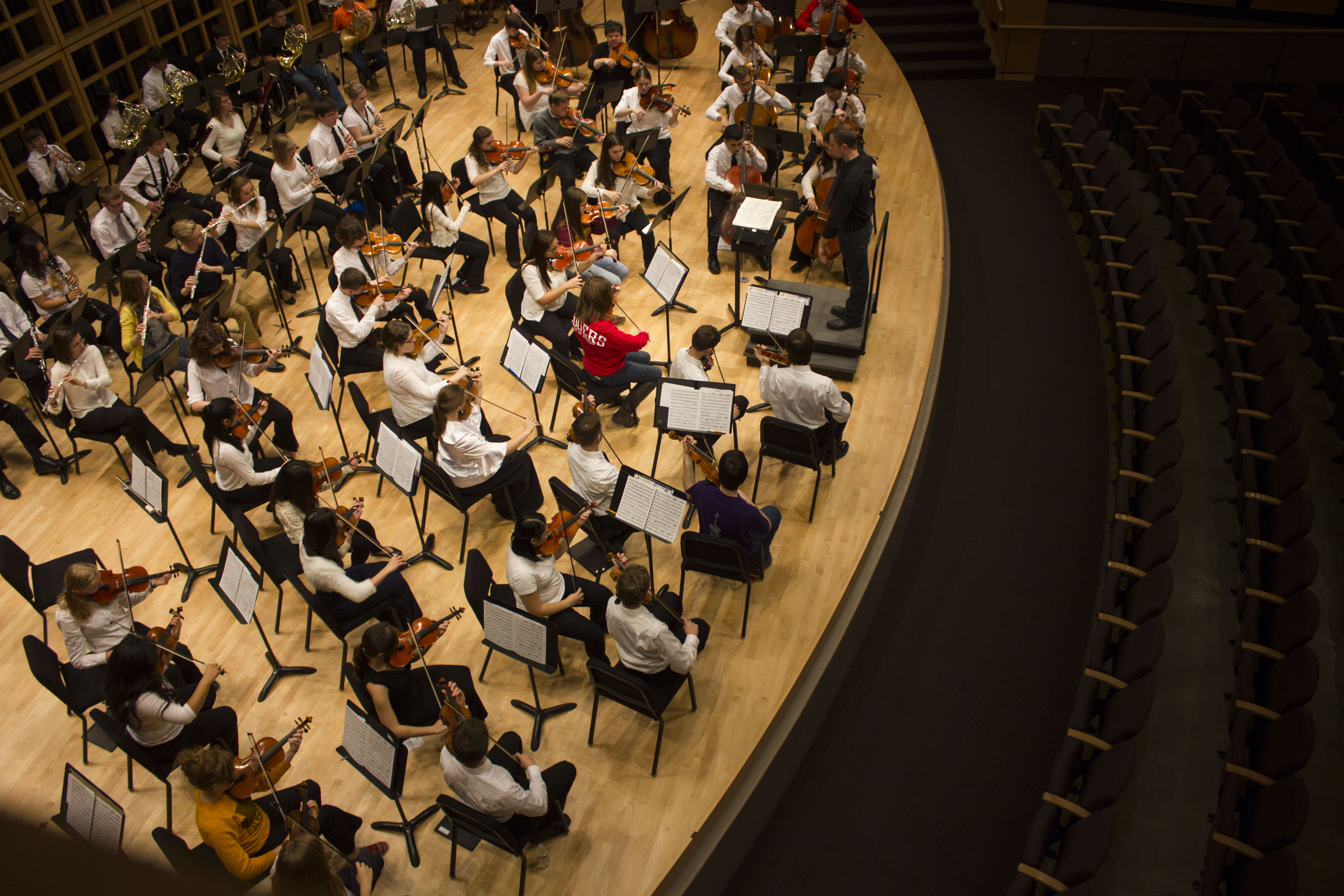 Two Youth Honors Orchestras comprised of talented Elkhart County instrumental musicians in grades 7-12 will perform in Sauder Concert Orchestra as part of the YHO Fall Concert.
Performing will be the YHO Concert Orchestra (grades 7-9), directed by Kyle Miller, and the YHO Symphony Orchestra (grades 9-12), conducted by new director José Rocha.
Born and raised in Indianapolis, Kyle Miller studied at Indiana State University where he received his Bachelor's Degree in Music Education. His professional activities include working with the Crossroads of America Youth Orchestra, assisting the orchestras at Perry Meridian Middle School by giving weekly cello sectionals, and starting a fiddling ensemble at Woodrow Wilson Middle School in Terre Haute. He actively gives private violin and cello lessons in the Elkhart area, and he is also the Orchestra Director at Pierre Moran Middle School as well as the Assistant Director of Orchestras at Elkhart Central High School. Kyle is also a member of the American String Teacher's Association and the Indiana Music Educator's Association.
José Rocha, DMA, is Associate Professor of Music at Goshen College and director of the Goshen College Symphony. He is a sought-after conductor and cellist in the United States and Mexico. Strongly committed to music education, Rocha has taught and directed middle school and high school orchestras in Florida, Texas, and Mississippi for the past 15 years. Rocha made his Carnegie Hall Debut leading the Johnston Sinfonia Orchestra in 2014. Rocha has enjoyed a diverse musical career, conducting and performing with Ray Price, Glenn Frey, Frank Sinatra Jr., Marvin Hamlish, Ray Charles, and Johnny Mathis among others. His orchestral experience includes membership in the Southwest Florida Symphony, Orlando Philharmonic, Savannah Symphony, Symphony of South East Texas, and the Strauss Symphony of America. Rocha holds a Doctor of Musical Arts degree from the University of Houston, and Bachelor and Master of Music degrees from the University of Florida.
Performance: Youth Honors Orchestras Spring Concert
Series: CSA Orchestra program
Date: May 21, 2017 @ 7:30 pm
Location: Sauder Concert Hall
Pricing: $7 adults, $5 seniors/students. GC faculty/staff/students free with ID.
Tickets: Available April 21, 2017 at the Box Office or by phone at (574) 535-7566
Purchase Tickets for Youth Honors Orchestras Spring Concert