For the 5-7 year old at Community School of the Arts!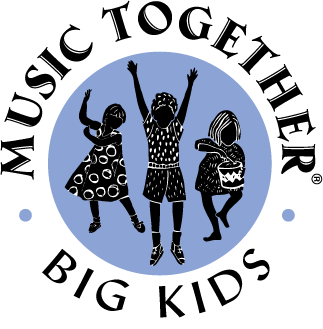 The Music Together® Big Kids class for children age 5-7 is the "next step" for children who have been in Music Together family classes, but it is also open to any child of this age who enjoys music.
Classes are 60-minutes long and prepare children for basic music literacy. They will include Music Together® features that families love, such as fun with singing and movement and the enjoyment that comes from making music with others. Big Kids classes will also introduce more sophisticated music and movement activities that are developmentally appropriate for this age group.
Parents will accompany children to the first and final classes of each 12-week session, and "check in" the last 10 minutes of class during other weeks.
Each semester is a different curriculum with different activities, so students may re-enroll for as many Big Kids semesters as desired between the ages of 5 and 7. Families who also have a child enrolled in Music Together® Family Classes receive a 10% discount for their Big Kid's class tuition each semester.
While Big Kids continues the Music Together® philosophy as an experiential, non-performance approach to music, each class is planned to allow for the following learning outcomes:
Concentration
Pitch discrimination
Rhythmic accuracy
Development of singing voice
Hearing and using basic harmony
Awareness of musical form
Improvisation
Dance
Playing instruments in group activities
Experienced teacher Jenny Campagna will teach all Big Kids classes.
Tuition and Registration
The cost per semester is $220 and includes 12 hours of fun and active music-making. Additional siblings may register for the same class for an additional $150 per child. Need-based financial aid is available. 

Class materials include the following:
A music CD
Family Songbook
HomePlay Pages
Tonal Solfége Pattern Cards
2016-17 Big Kids Classes and Schedule
Day
Time
Location
Instructor
Class dates
Thursday
5:00 – 6:00 p.m.
GC Music Center Room 100
Jenny Campagna
FALL: Sept. 8, 15, 22, 29, Oct. 6, 13, 27, Nov. 3, 10, 17, Dec. 1, 8
SPRING: Jan. 12, 19, 26, Feb. 2, 9, 16, 23, Mar. 2, 9 16, 23, 30
Students enrolled in the Big Kids classes are invited to the Music Together Winter Term All-Class Celebrations on Saturday, March 12. Celebrations will be held at 9:30 a.m. and 11:00 a.m. in Rieth Recital Hall.