Over the Rhine and Carrie Newcomer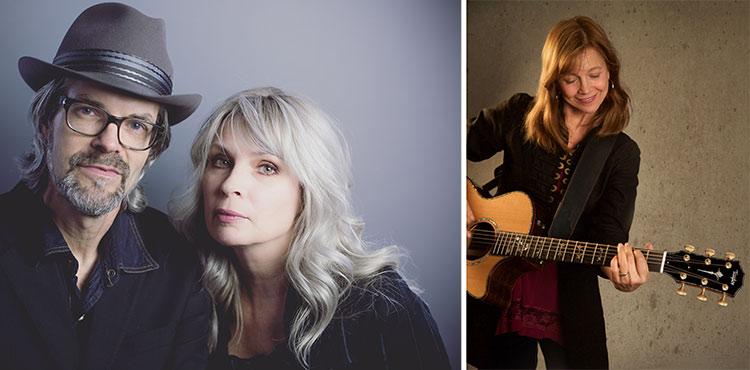 This special return double-bill concert will be a Midwestern musical night for the soul! Described as a "prairie mystic" by the Boston Globe, Indiana-based singer-songwriter Carrie Newcomer's music has always explored the intersection of the spiritual and the daily, the sacred and the ordinary. With 15 solo albums, Newcomer has attracted a devoted and international following with her warm voice and exquisite melodies. And when you listen to Ohio-based Over the Rhine, the supremely talented wife-husband jazzy folk duo, you will quickly fall under the spell of their compelling, soothing and earthy voices, and their insightful lyrics. God, love and death often show up in their faith-infused music as the couple – Linford Detweiler, pianist and guitarist, and Karin Bergquist, vocalist and guitarist – explore life's biggest questions.
Event Info
Date: Friday, September 17, 2o21
Time: 7:30 p.m. ET
Sauder Concert Hall
Tickets: $45/$40/$30
Series tickets available via link below. Tickets to individual events will be available beginning Tuesday, August 3, 2021 at 9:00 a.m.
For the safety of our patrons, artists and staff, the following precautions are being observed in response to COVID-19:
At this time, all patrons and staff will be required to wear face masks while indoors on campus. We will continually monitor and adjust the need for this requirement based on county vaccination rates and transmission rates.

At this time, we will not be limiting seating capacity. Extra seats can be purchased if you would like additional buffer seating.

The performance venues are well ventilated and air is exchanged frequently.

The facilities will be thoroughly cleaned before and after each performance, and hand sanitizing stations will be provided throughout the facility.

All event staff are required to complete a daily wellness check before coming to work.

We ask that all guests follow recommendations from the CDC and do not attend a show if you have a fever, cough or respiratory symptoms, or have recently been in contact with someone who was sick.
We will continue to monitor the pandemic throughout the coming months, and make adjustments on safety protocols based on local health guidelines, transmission and vaccination rates.