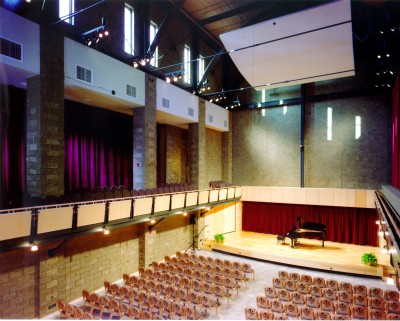 Rieth Recital Hall provides an intimate performance and gathering space with a design reminiscent of a medieval cathedral. The flat floor and moveable seating accommodate various room arrangements. Acoustical elements adjust to suit activities planned for the space.
Rieth Recital Hall details:
Concert/lecture seating for 250
Banquet seating for 150
Taylor and Boody organ
Elliptical platform: 35 feet wide, with a maximum depth of 16 feet
7' Steinway grand piano
One dressing room
Wooden sculpture of musician/writer Samuel Pepys
State of the art audio equipment
Contact the Events Office at (574) 535-7881 for room availability and rental rates.
Technical specifications:
16 mic inputs on stage
4 bi-directional tie lines on stage
Multiple mic inputs around the balcony and ceiling level
Yamaha TF1 Digital Console
Large assortment of microphones (see list for Sauder Concert Hall)
Shure VP88 stereo room mic
Listen brand assisted listening transmitter
Audio feed to Green room
Two channels of Clearcom Intercom
Self-service options for video and audio recording and amplification, available for GC employees