Free Music Together Classes FOR BABIES
---
FREE classes for infants birth to 8 mos. and their caregivers!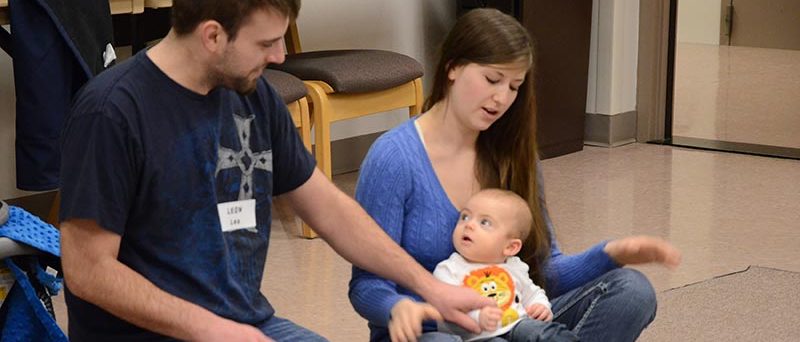 Please accept our gift of 6 FREE Music Together classes, in collaboration with Horizon Education Alliance. Classes are forming now for parents and babies from newborn to 8 months old born or living in Elkhart County.
Did You Know?
Music and movement activity can improve parent-child bonding, language learning and increased brain function for your infant. Research shows that infants with these benefits are generally more confident, more emotionally stable, and when older they experience greater success in school.
Music Together® classes provide time and focus for nurturing the very important connections between you and your baby. Trained specialists lead these classes using music and movement to stimulate your baby's development.
Free Classes for You and Your Baby
Your free Music Together classes for babies born or living in Elkhart County will meet weekly for six weeks, 45 minutes per class. They are held in convenient Elkhart County locations. If you belong to a group or organization wanting to form your own class with a minimum of six participants, we can arrange to have instructors come to your location. Call 574-535-7361 to schedule. To sign up for your free class or to receive more information, please call us today at 574-535-7907.
Childcare will be provided at the classes indicated below. Please indicate on the Registration Form if childcare is needed.
Upcoming Music Together Classes for Babies
Music Together® Babies Classes in Elkhart
| Day | Time | Class dates | Location |
| --- | --- | --- | --- |
| Mondays | 9:30-10:15 a.m. | [2020] **Jan. 6, 13, 20, 27, Feb. 3, 10** | CAPS Offices |
| Mondays | 9:30-10:15 a.m. | [2020] **March 23, 30, April 13, 20, 27, May 4** | CAPS Offices |
**Childcare will be provided at this class
Music Together® Babies Classes in Goshen
| Day | Time | Class dates | Location |
| --- | --- | --- | --- |
| Mondays | 4:30-5:15 pm | [2020] **Jan. 13, 20, 27, Feb. 3, 10, 17** | Music Center Rm 100 |
| Mondays | 4:30-5:15 pm | [2020] March 23, 30, April 13, 20, 27, May 4 | Music Center Rm 100 |
| Saturdays | 9:30-10:15 am | [2020] Jan. 25, Feb. 1, 8, 15, 22, 29 | Music Center Rm 110/100 (TBD) |
| Saturdays | 9:30-10:15 am | [2020] **April 18, 25, May 2, 9, 23, 30** | Music Center Rm 110/100 (TBD) |
**Childcare will be provided at this class
NEW — Music Together® Babies Classes in Middlebury
| Day | Time | Class dates | Location |
| --- | --- | --- | --- |
| Mondays | 9:30-10:15 am | [2020] April 13, 20, 27, May 4, 11, 18 | Greencroft Middlebury |