Free Music Together Classes FOR BABIES
---
FREE classes for infants from birth to 8 mos. and their caregivers!
(for residents of Elkhart County, Indiana)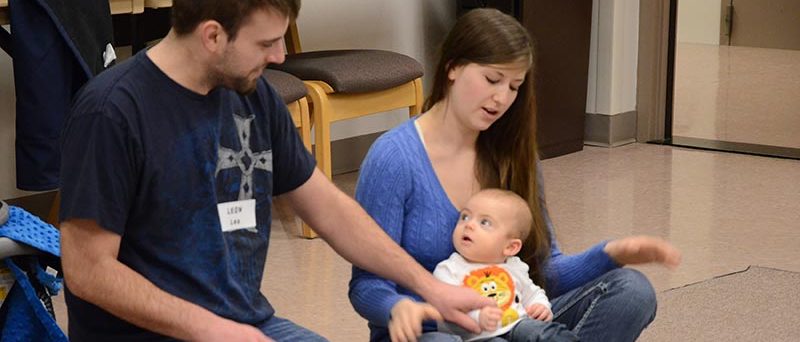 Please accept our gift of 6 FREE Music Together classes, in collaboration with Horizon Education Alliance. Classes are forming now for parents and babies from newborn to 8 months old born or living in Elkhart County.
Did You Know?
Music and movement activity can improve parent-child bonding, language learning and increased brain function for your infant. Research shows that infants with these benefits are generally more confident, more emotionally stable, and when older they experience greater success in school.
Music Together® classes provide time and focus for nurturing the very important connections between you and your baby. Trained specialists lead these classes using music and movement to stimulate your baby's development.
---
FREE Classes for You and Your Baby
Music Together babies classes will be offered in a session of 6 weekly meetings of 45 minutes each. Join us for singing, movement, and learning strategies to nurture your baby through music! Each participating family will receive a CD and informational pamphlet. Due to the COVID-19 pandemic, our classes will observe the following safety protocols:
Mask policy

All teachers wear masks and/or face shields.

All parents wear masks.

Infants are not required to wear masks. Please see our mask policy on the GC Music Center website.

Family units will be seated together at a 6-foot distance from other families. 

Each family unit will be assigned their own set of instruments and props.

A hand sanitizing station will be available for use before and after class.

Families will be ask to self-screen (guidelines will be posted/shared on our website)

In the event that in-person classes become impossible, classes will shift online. 

Make-up classes will be available online rather than by visiting other classes to limit contact between families in different classes.

Drop-in visitors (i.e. grandparents, friends) are not allowed to attend classes at this time.
Upcoming Music Together Classes for Babies
| Day | Time | Class dates | Location | Instructor |
| --- | --- | --- | --- | --- |
| Saturdays | 9:30-10:15 am | [2021] April 17, 24, May 1, 8, 15, 22 | Rieth Recital Hall | Kristen Snyder |
| Mondays | 9:30-10:15 am | [2021]  April 26, May 3, 10, 17, 24, June 7 | Elkhart CAPS office | Becky Overholt |