Free Music Together Classes FOR BABIES
---
FREE classes for infants from birth to 8 mos. and their caregivers!
(for residents of Elkhart County, Indiana)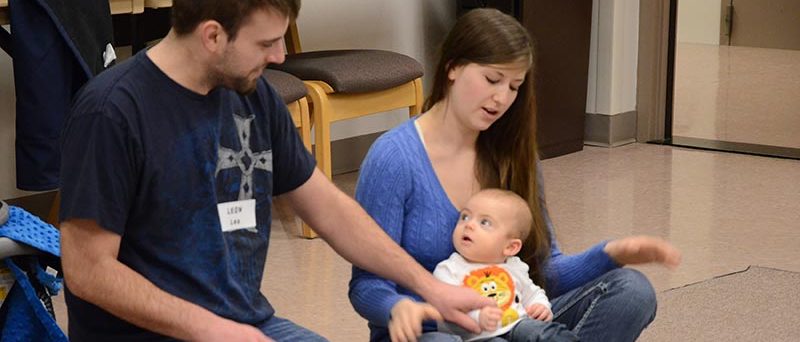 Please accept our gift of 6 FREE Music Together classes, in collaboration with Horizon Education Alliance. Classes are forming now for parents and babies from newborn to 8 months old born or living in Elkhart County.
Did You Know?
Music and movement activity can improve parent-child bonding, language learning and increased brain function for your infant. Research shows that infants with these benefits are generally more confident, more emotionally stable, and when older they experience greater success in school.
Music Together® classes provide time and focus for nurturing the very important connections between you and your baby. Trained specialists lead these classes using music and movement to stimulate your baby's development.
Free Virtual Classes for You and Your Baby
Due to the ongoing situation with COVID-19, the FREE Goshen College Music Together classes for you and your baby will be offered online in a Zoom class for the summer session. Just like our traditional in-person classes, this virtual class will encourage parents to interact musically with their children: this will not be a class to just sit your baby in front of a computer! The teacher will allow time at the beginning of each class for parents to get to know each other and their little ones – then, teachers will encourage parents to turn their baby away from the screen so that each baby may interact with his parents.
The Virtual Babies Classes will be offered in a session of 8 weekly meetings of 30 minutes each.
CD and book my be picked up Tuesday, Wednesday, or Thursday, June 2-4, inside the double doors of the main entrance to the Goshen College Music Center. Pick up times are 10:00am-12:00pm, Tuesday and Wednesday, and 5:00pm-7:00pm Thursday. Please let us know if you are not able to pick up your materials at these times by emailing jcampagna@goshen.edu. We will arrange another way to get your materials to you.
Upcoming Music Together Virtual Classes for Babies
We hope to begin Music Together Free Babies Classes in person in Goshen, Elkhart, and Middlebury again this fall. Please check back mid-summer for the fall schedule.
| Day | Time | Class dates | Location | Instructor |
| --- | --- | --- | --- | --- |
| Tuesdays | 9:30-10:00 a.m. | [2020] June 9, 16, 23, 30, July 7, 14, 21, 28 | Online – Zoom | Kristen Snyder |
| Thursdays | 5:00-5:30 p.m. | [2020] June 11, 18, 25, July 2, 9, 16, 23, 30 | Online – Zoom | Jenny Campagna |