Music Together RHYTHM KIDS™ CLASSES
For children ages 5 through 8, offered in Goshen!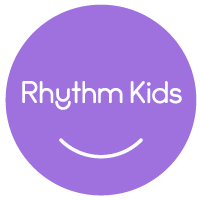 Rhythm Kids™ K-2 is an exciting music, movement, and drumming class for children in Kindergarten through second grade (ages 5 through 8). It follows through on the Music Together® vision to help children complete the pathway of early childhood music development from birth through age 8. Children and their grownups can enjoy drumming play and learning at home with the help of online play-along videos featuring Rhythm Kids creator Tom Foote.
10 weekly, 45-minute classes (6 weekly classes in summer sessions)
Animal Collection Songbook and CDs (2 copies) each semester
Access to online video tutorials and play-alongs
2019-20 RHYTHM KIDS Classes
| Class # | Class Time | Class Dates | Location | Teacher |
| --- | --- | --- | --- | --- |
| MT-200-1 (Fall) | 4:00-500p | Thursdays, Sept. 12, 19, 26, Oct. 3, 10, 24, 31, Nov. 7, 14, 21 | Goshen College Music Center | Jenny Campagna |
| MT-200-2 (Winter) | 4:00-500p | Thursdays, Jan. 9, 16, 23, 30, Feb. 6, 13, 20, 27, March 5, 12 | Goshen College Music Center | Jenny Campagna |
| MT-200-3 (Spring) | 4:00-500p | Thursdays, March 26, April 2, 16, 23, 30, May 7, 14, 21, 28, June 4 | Goshen College Music Center | Jenny Campagna |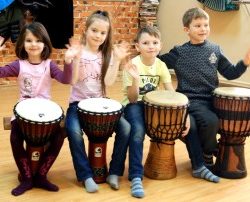 Children integrate and assimilate rhythm into their lives, as they:
learn multicultural drumming patterns;
develop new repertoire on various percussion instruments;
explore movement and dance while singing songs;
play games based on music and drumming;
have fun with a host of rhythm activities.
Children will:
Learn, create, discover and explore music, movement and drumming
Find new ways to connect mind, body, and voice through rhythm
Develop skill in soloing, conducting, composition, and improvisation
Participate in active musical games that are both enriching and totally fun!
Important note: This is an instrument-learning class, so your child will need a djembe drum for class and to use at home. If you need an appropriate drum, we will have a high quality, African-made djembe drum for purchase for $60. We also have a limited number of drums available to rent for $20, or you may make your own arrangements for a drum. Teachers will confirm drum purchase or rental arrangements in advance of the first class.
Sliding Scale Tuition and Registration
Tuition for Music Together Rhythm Kids classes is $175 for first child ($120 for summer) and a 40% discount for siblings. The Music Center is committed to helping ensure that all children have the ability to participate in musical activities. With three levels of pricing based on the following income guidelines used by the Federal Free and Reduced School Lunch Program, we ask you to self-select your rate of payment on your honor. When registering, you will be given the option to select for which tier of financial aid your family qualifies and pay the corresponding amount.
Register and pay for all three sessions (Fall, Winter, Spring) this year by September 16, 2019 and receive a 10% discount off total Music Together tuition. Please contact the Music Center office in person or by calling (574) 535-7361 (choose #1 from the menu to reach Dustin George-Miller) between July 15 – September 16 to complete the whole year registration for your child. If you wish to reserve your place in a Fall class before Sept. 16, you may register and pay for it as usual and then contact the office between July 15 and Sept. 16 to complete registration for Winter and Spring classes, at which time the discount for Fall classes will also be deducted from tuition total.
2019-20 Federal Free & Reduced Lunch Guidelines
---
Household
size
Summer tuition: $175/semester ($105 siblings)
if annual income is at least:
 Tuition: $100/semester ($60 siblings)
if annual income is between:
Tuition: $50/semester ($30 siblings)
if annual income is less than:
2
$31,285
$31,284 – $21,984
$21,983
3
$39,462
$39,461 – $27,730
$27,729
4
$47,639
$47,638 – $33,476
$33,475
5
$55,816
$55,815 – $39,222
$39,221
6
$63,993
$63,992 – $44,968
$44,967
7
$72,170
$72,169 – $50,714
$50,713
8
$80,347
$80,346 – $56,460
$56,459
Purple Pass Concerts

Community School of the Arts students and their immediate family members may attend many events at the Music Center for free that others pay admission to attend. Identify yourself at the box office or call the Goshen College Box Office to claim your free tickets. For a complete listing of Purple Pass concerts, click below.