Music Together FAMILY CLASSES
Music Together Online
A new way to experience Music Together! While we can't be together in person, we can still sing together online!
Classes will consist of 8 week sessions, featuring two 20-minute classes per week, delivered through a private Facebook Live group or Zoom meetings. (Platform information will be sent ahead of first class.) Both Facebook and Zoom are free apps. Miss a class? You'll have the ability to replay a class if you miss it or want to watch it again!
A full-color songbook and CD (along with a digital download for the "Hello Everybody" app from Music Together) are included.
Due to shelter-in-place restrictions, these items will be MAILED to your home. In the checkout process, you will be prompted to enter the mailing address where you would like to receive these materials.
Cost is $75 PER HOUSEHOLD
(Free/Reduced Lunch cost = $45 PER HOUSEHOLD)
** PLEASE register only ONE person per family! **
Music Together Online Spring Class Offerings
Class #
Class Time
Class Dates
Location
Teacher
MTO-100-3
9:30-9:50 am
Tuesdays/Fridays, 3/31, 4/3, 7, 10, 14, 17, 21, 24, 28, 5/1, 5, 8, 12, 15, 19, 22
Online
Jenny
MTO-101-3
6:00-6:20 pm
Thursdays/Mondays, 4/2, 6, 9, 13, 16, 20, 23, 27, 30, 5/4, 7, 11, 14,18, 21, 28,
Online
Jenny
MTO-102-3
10:00-10:20 am
Thursdays/Mondays, 4/2, 6, 9, 13, 16, 20, 23, 27, 30, 5/4, 7, 11, 14,18, 21, 28,
Online
Felicia
MTO-103-3
6:00-6:20 pm
Tuesday/Fridays, 3/31, 4/3, 7, 10, 14, 17, 21, 24, 28, 5/1, 5, 8, 12, 15, 19, 22,
Online
Christa
MTO-104-3
10:00-10:20 am
Wednesdays/
Saturdays, 4/1, 4, 8, 11, 15, 18, 22, 25, 29, 5/2, 6, 9, 13, 16, 20, 23,
Online
Kristen
For children birth to age 5 with parents or caregivers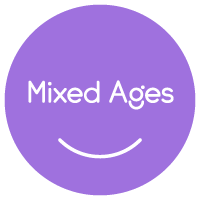 Music Together® classes are based on the recognition that all children are musical. This research-based program uses playful song and movement to help children learn to sing in tune, keep a beat and gain confidence in the music of their culture.
Each 10-week session (6-week session in Summer) includes a weekly 45-minute class. All families receive songbook, high quality recording and digital access to the session's current song collection. Classes are mixed ages, taught by professionally trained and registered Music Together instructors. Tuition assistance is available on a sliding scale.
MAKEUP POLICY: Any missed classes within your current session can be made up at another scheduled class time/location with advance communication with your teacher.
Music Together con Español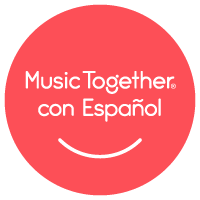 Music Together con Español mixed-age class uses English / Spanish editions of our song collections, providing Spanish-language exposure within the rich music environment of the Music Together classroom.
The CD for this class has at least one Spanish verse in each song which we incorporate into the class activities. The class is taught in English. Spanish speakers and English speakers are encouraged to attend!
Summer 2020 Family Classes
Information about upcoming summer Music Together family classes will be posted soon.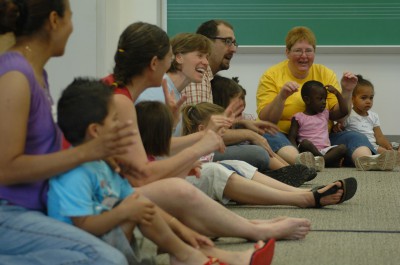 Tuition for Music Together family classes is $175 for first child ($120 in summer session) with a 40% discount for siblings.  The Music Center is committed to helping ensure that all children have the ability to participate in musical activities. For Music Together® there are three levels of pricing, which we ask you to self-select on your honor, based on the following income guidelines used by the Federal Free and Reduced School Lunch Program. When registering, you will be given the option to select which tier of financial aid your family qualifies and pay the corresponding amount.  Siblings in a family who are younger than 9 months may attend with other family members free of charge.
Whole year registration discount – Register for a Music Together class in all three semesters (fall, winter, spring) in one transaction before September 21, 2020, and receive 10% off your total tuition. The discount is at all financial aid levels including Reduced Lunch and Free Lunch tiers. Discount will appear automatically online and will be reflected in the spring term class tuition. Registration for the 2020-21 year will open on July 13, 2020. You may also call the Music Center Office between August 3-September 21 to register over the phone. Whole year discount will not apply to discounted sibling rates.
2019-20 Federal Free & Reduced Lunch Guidelines
---
Household
size
Tuition: $175/semester ($105 siblings)
if annual income is at least:
 Tuition: $100/semester ($60 siblings)
if annual income is between:
Tuition: $50/semester ($30 siblings)
if annual income is less than:
2
$31,285
$31,284 – $21,984
$21,983
3
$39,462
$39,461 – $27,730
$27,729
4
$47,639
$47,638 – $33,476
$33,475
5
$55,816
$55,815 – $39,222
$39,221
6
$63,993
$63,992 – $44,968
$44,967
7
$72,170
$72,169 – $50,714
$50,713
8
$80,347
$80,346 – $56,460
$56,459
Summer Tuition: $120 first child ($90 reduced lunch, $50 free lunch), 40% discount for siblings
FOR QUESTIONS OR TO REGISTER: Call the Music Center Main Office at (574) 535-7361. You may also register and pay online below.
GIFT CERTIFICATES are for sale for upcoming Music Together family classes.
These certificates would make lovely Christmas and birthday presents for families with young children! Certificates can be purchased in person at the Music Center Main Office or by phone with a credit card. Call (574) 535-7361 to purchase by phone. Certificates bought by phone can be mailed to the purchaser.
Purple Pass Concerts

Community School of the Arts students and their immediate family members may attend many events at the Music Center for free that others pay admission to attend. Identify yourself or call the Goshen College Box Office to claim your free tickets. For a complete listing of Purple Pass concerts, click below.