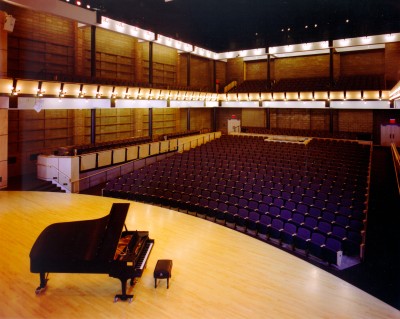 Sauder Concert Hall is a leading performance venue in the Midwest due to its acoustics features and simple elegance. The hall design was inspired by the great concert halls of Europe. Vance George, director of the San Francisco Symphony Chorus, described Sauder Concert Hall as "one of the great halls of the world. It has incredibly warm and true acoustics."
Sauder Concert Hall details:
900 seat auditorium (main floor 600, balcony 300)
Additional 100 seat choral terrace
Handicap accessiblity
Elliptical stage: 65 feet wide, with a maximum depth of 32 feet
Two backstage dressing rooms
Two 9' Steinway grand pianos
State of the art audio equipment
Contact the Goshen College Events Office at (574) 535-7881 for room availability and rental rates.
---
Sauder Concert Hall Audio Equipment Specifications
The stage is elliptical, with a width of 65 feet, a maximum depth of 32 feet and a backstage maple acoustical wood wall 12 feet high. Distance from front of house to the front of the stage is 54′. The venue has a 100 seat choral terrace – above and behind the back stage wall, 9 feet above the stage floor. These tickets are often sold at a reduced rate.
The PA system for the venue is designed in a Left/Center/Right configuration using EAW speakers, powered by Crown amplifiers, using Crown IQ processing. 4 Monitor channels are available. The installed system is augmented by front fills and subwoofers placed on stage.
Center Cluster Top Tier (1):
EAW ASR665e
HF: 2.5″ voice coil, 1.4″ exit, 60ºx45º
constant directivity horn.
MF: Horn-loaded 10-in MF cone
LF: 15″ vented woofer
Bottom Tier (1):
EAW AS690e
HF: 2.5″ voice coil, 1.4″ exit, 90ºx 45º
constant directivity horn
MF: Horn-loaded 10-in MF cone
LF: 2x 12-in woofers (separated vertically)
Left / Right (6):
EAW MK2164 (balcony/underbalcony)
HF: 1.4″ exit/44mm voice coil
compression driver, 60ºx45º cd horn.
LF: 12″ woofer
Front fills (4):
EAW JF80
HF: 1″ exit compression driver on a Waveguide plate
LF: 2 x 6.5″ woofers
Subwoofers (2):
EAW SB528z
A dedicated subwoofer system with 2x 18″ transducers in a rectangular enclosure
Monitors (6):
EAW SM200iH low/profile wedge
HF:2″ exit compression driver on a Wave Guide Plate
LF:12″ Woofer
Choral Terrace fill (1):
EAW UB82e
HF: 1″ exit compression driver on a 90 x 60 constant directivity horn.
LF: 2 x 8″ woofer
Mixing Console:
Yamaha CL5

Digital Mixing Console
32 + 2 Master Faders, 72 mono channel mixing plus 8 stereo channels
Rio 1608-D and Rio3224-D
16 send Mix Bus, 8 send Matrix Bus
4 band parametric channel EQ, 31-band graphic EQ, 15 band flex EQ
Reverbs, delays, modulation, premium rack compressor modeling etc for effects
Dante

System processor:
Crown USM810, Crown IQ software
Amplifiers (10):
Crown Macrotech Series
4 MA2400
6 MA1200 (4 monitor mixes total)
Outboard Gear:
2 Personus ACP88 compressors (16ch total)
2 Lexicon MPX550 effects/reverb
t.c. electronics M-1 effects
t.c. electronics D-2 delay
2 dbx 2231 graphic eq (4 ch)2 Symetrix 533E graphic eq (4 ch)
Sony CD, MD playback
Tascam DA-40 DAT recorder
Proel active DI
Countryman 85 DI
Whirlwind IMP 2
Microphone inventory:2 AKG C1000S
2 Audio Technica AT4054
1 Audio Technica AT4040 (with shock mount)
2 Neumann TLM 193 (with shock mounts)
2 Neumann KM 184
1 Neumann U87 (with shock mount)
1 Sennheiser e6021 Shure Beta 52
6 Shure Beta 57
6 Shure Beta 58
1 Shure Beta 87a
6 Shure SM81
10 Shure SM 58
2 Shure SM 57
2 Shure KSM 44 (with shock mounts)
4 DPA 4099 w/Shure wireless bodypack or xlr adapters
4 Shure UR2 Wireless with Beta87C capsules or a Sennheiser MKE2 Lapel
2 Shure QLD2 Wireless with Beta 87C capsules or bodypack with Shure W93 Lapel