2022-23 Choir Season Highlights:
Registration Deadline: August 29, 2022
A Whole Year Discount of $20 is available for those who register in advance for both fall 2022 and spring 2023! Whole Year Discount deadline: September 9, 2022.
Fall rehearsals: week of August 28 – week of November 6, 2022.
Fall concert: Sunday, November 13, 2022 at 4:00 pm  in Sauder Concert Hall.
A Festival of Carols (Shout for Joy): December 2-3, 2022, 7:30 pm, December 4, 2022, 4:00 pm in Sauder Concert Hall
Spring rehearsals: week of January 8 – week of May 7, 2023.
Spring concert: Sunday, May 7, 2023 at 4:00 pm in Sauder Concert Hall.
Pricing:
$100 Full Price Tuition
$70 Reduced Lunch Rate
$50 Free Lunch Rate
Additional Financial Aid may be available for special circumstances–please contact csa@goshen.edu to inquire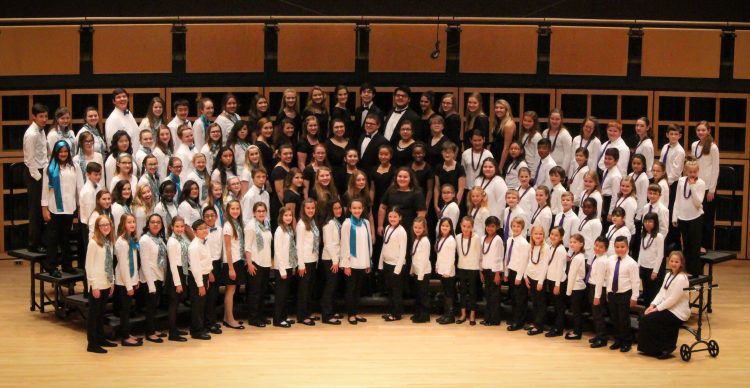 CSA Choir Kick-Off
For all CSA Choir members and parents or guardians
Sunday, September 11, 2022, 2:00 – 3:00 p.m.
Rieth Recital Hall, Goshen College Music Center
Hear an overview of the season
Hear from the directors
Bring any questions you have
Meet others in the program and enjoy some refreshments!
Singing together provides a way of building musical skills while forming meaningful and lasting friendships! The Community School of the Arts offers three choirs for students in third through twelfth grade. Auditions are held at the Music Center each fall and spring: for more information about how you or a friend can get involved, contact CSA Choral Program Director Marcia Yost at (574) 535-7485 or csa@goshen.edu.