An ideal place to hear music
Want to see what events are happening at the Music Center? Listings by category are below, or you can go to our Complete Concert Calendar.
A Festival of Carols
Where: Sauder Concert Hall
Price: $16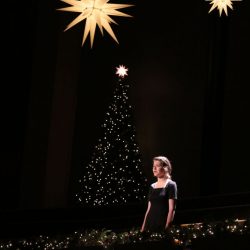 Multiple Dates — Sauder Concert Hall
One of the most highly-anticipated concerts in Goshen College's performing series, A Festival of Carols is the college's annual Christmas music extravaganza. Concerts will feature performances by the Goshen College Choirs, Goshen College Symphony Orchestra, music students, and music professors, interspersed with audience singing and readings, and all set in a lavishly decorated Sauder Concert Hall.
Tickets are reserved seating and available for purchase beginning October 29. Patrons are strongly encouraged to purchase their tickets in advance. The Sunday afternoon performance will be live-streamed beginning at 4:00 p.m.
Music Dept/Music Center Concerts
GC Senior Recitals
Where: Rieth Recital Hall
Price: Free and open to the public
Fri, Nov 30th @ 7:30 pm — Rieth Recital Hall
Goshen College senior vocalist and music major Benjamin Reimer will present his Senior Voice Recital in Rieth Recital Hall. The recital is free and the public is warmly invited. A reception will follow in the Music Center lobby.
CSA Concerts & Recitals
No events scheduled