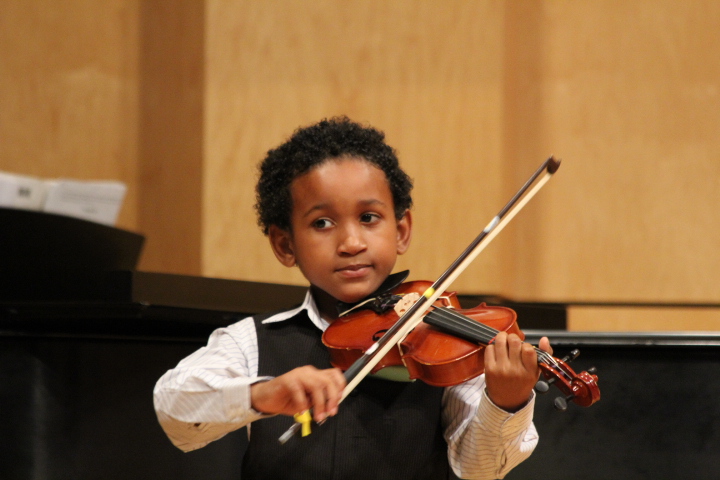 Learn the "Mother Tongue" of string instruments.
The Suzuki Strings (violin, viola and cello) program is intended for children age 4 through 8 with a parent or caregiver attending lessons. The program is led by certified Suzuki instructor and Program Director Rosalyn Troiano.
Also called the "Mother Tongue" method, Suzuki instruction is modeled on the way children learn to speak their native tongue. The method's philosophy includes the belief that talent is not inherited, but nurtured through a child's environment. To facilitate this environment:
A parent attends the weekly private 30-minute lesson with their child and is the "home teacher" during regular home practice sessions. Parents need no prior musical training.
Students learn new pieces through daily listening to recordings of the Suzuki repertoire, similar to language learning.
Group lessons are held six times per semester in addition to the weekly private lesson, and are a fun and important part of the Suzuki experience.
Tuition and Registration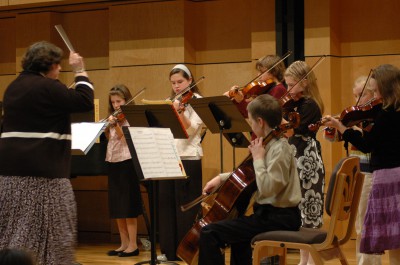 All new students need to schedule an informal interview with CSA String Academy Director Rosalyn Troiano prior to registration. Please call (574) 535-7908 or send an e-mail to schedule an interview. For returning students, registration can be completed by visiting the Music Center Main Office, by calling (574) 535-7849, or online via ActiveNet.
Private lessons are arranged between family and teacher.
Beginning Suzuki violin and viola group classes meet every other Monday from 5:15 – 6:00 p.m. Book 1 Suzuki violin and viola group classes meet every other Monday from 6:00-6:45 p.m. Private lesson dates and times are arranged between family and teacher.
Fall 2022 group lesson dates:  Aug. 22, Sept. 19, Oct. 3, Oct. 17, Nov. 7, Nov. 21
Spring 2023 group lesson dates: TBA
Suzuki Play-In Concert Dates:
Fall: Monday, December 12, 2022, 6:30 p.m., Rieth Recital Hall
Spring: TBD, 6:30 p.m., Rieth Recital Hall
TUITION for beginning Suzuki violin, viola or cello = $414.00

Financial aid is available to families with need. Strong preference will be given to those who apply for scholarships by August 10, 2018; there is no guarantee for consideration of scholarship if applying after August 10. Funds are limited for new scholarship applicants for the spring semester, and will be considered on a rolling basis.
Please note: The deadline for registering for lessons in fall semester 2022 is Friday, August 29, 2022. Registration after this date will result in a late fee. Most private lessons and group classes begin the week of August 15, 2022.