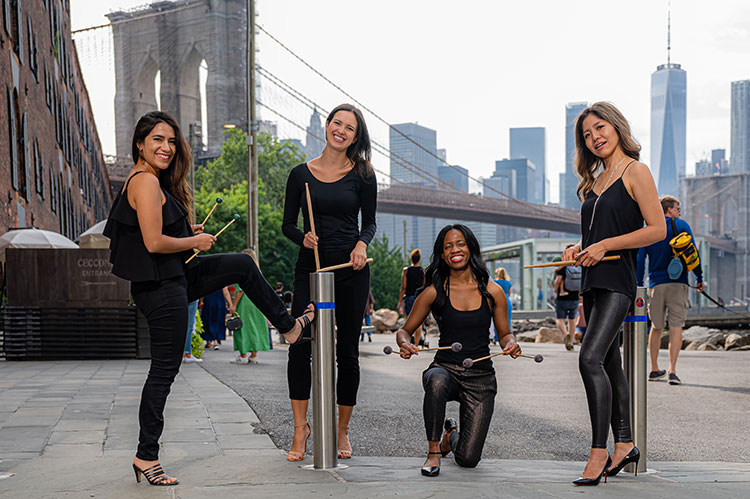 Hailed as "One of the most innovative and exciting percussion ensembles to emerge in the golden age of chamber music" (Jonathan Haas, New York University) for their immersive sound world, New York City-based Excelsis Percussion Quartet is Marcelina Suchocka (Poland), Aya Kaminaguchi (Japan), Britton-René Collins (United States), and Mariana Ramirez (Mexico).
This international group of women with a multilingual combination of five languages join together to speak the universal language of rhythm, rooted in their belief that music possesses an ability to unite us all. Excelsis brings vibrancy into the percussion community through eclectic programming, innovative storytelling, and embracing their intersectional identities.
Excelsis' breadth of repertoire spans from classical to avant-garde. With the presence of exciting arrangements, including Björk and other pop music covers, Excelsis advocates for multi-genre representation in their programming, charming audiences with contrasting and uniquely innovative concert experiences.
The concert is held as part of the 2023 Midwest Chamber Percussion Camp at Goshen College.
Performance: Excelsis Percussion Quartet
Series: Music Dept/Music Center Concerts
Date: July 8, 2023 @ 7:30 pm
Location: Sauder Concert Hall
Pricing: $16 adults, $10 seniors, students, GC students/employees
Tickets: Available at the Box Office or by phone at (574) 535-7566
Purchase Tickets for Excelsis Percussion Quartet