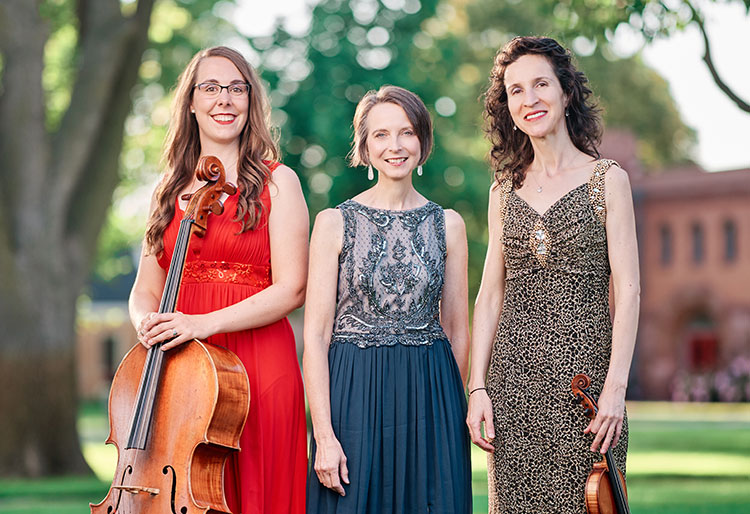 The Rawlins Piano Trio – Ioana Galu (violin), Sonja Kraus (cello), Susan Keith Gray (piano) – is a dynamic group of performers, teachers and scholars, distinguishing itself in arts outreach, masterclasses and a variety of performances. "These artists are first class. They perform with elan and intensity. Highly recommended!" says bassist and Inner Game of Music author Barry Green. Prestigious performance venues include Sejong Chamber Hall (Seoul, South Korea), Chiang-Kai-Shek Cultural Center (Kaohsiung, Taiwan), Teatro de Anita Villalaz for the Fundación Sinfonía Concertante de Panama and national conferences of the College Music Society and Chamber Music America.
Their diverse repertoire ranges from standard works to new and undiscovered pieces deserving to be brought into the public light. Owing to its expertise as a preeminent interpreter of American music, the ensemble has recorded five CDs of these works. Attracting Opposites (Azica, 2013) celebrates commissions by Miguel Roig-Francoli, Stephen Yarbrough, James Lentini, Timothy Hoekman and Emma Lou Diemer. In 2009, American Discoveries (Albany) presented the Trio's first commissioned composition–Volvic Maritim by New York based composer, Daniel Bernard Roumain. Reviewer J. Scott Morrison declared American Discoveries, "…another winner from the Rawlins Trio…they continue their work of bringing us American composers' music that is worth hearing…Their playing is artful, suave and pleasing."
The members of the Trio are on the faculty of the University of South Dakota Department of Music. As enthusiastic teachers, outreach is a vital component of their touring schedule with masterclasses and school visits on a regular basis throughout the United States and abroad. The ensemble is named in honor of the late Marjorie and Robert Rawlins, its principal benefactors and graduates of the University of South Dakota in the 1940s.
The Trio will welcome special guest Penny Thompson Kruse, violin, in performances of Mozart's Piano Quartet No. 1 in G minor, K. 478 and Faure's Piano Quartet No. 1 in C minor, Op. 15.
Performance: Visiting Artist Recital: The Rawlins Trio with Penny Thompson Kruse, violin
Series: Music Dept/Music Center Concerts
Date: October 24, 2023 @ 7:30 pm
Location: Rieth Recital Hall
Pricing: Free and open to the public