Goshen College Strings Camp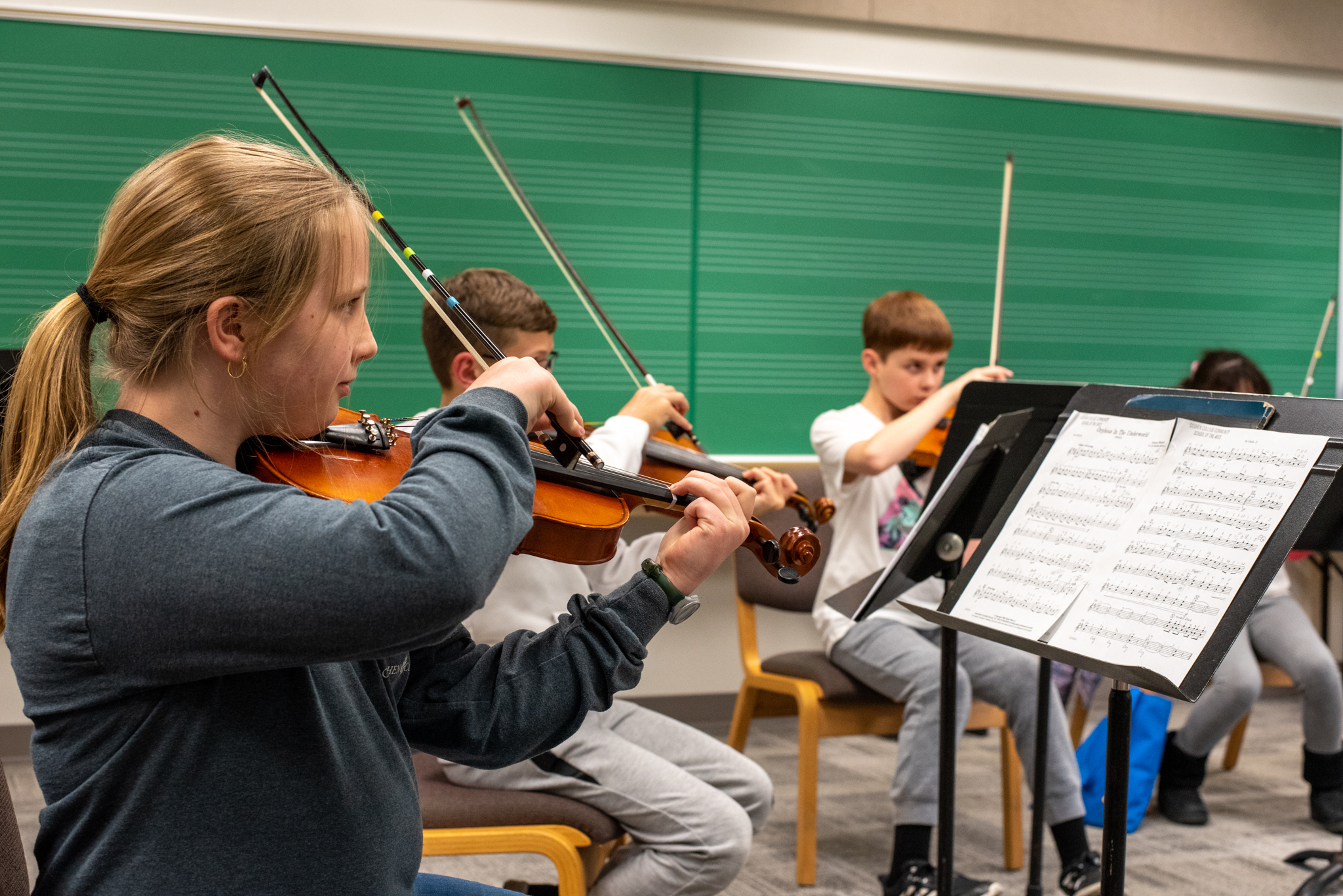 Camp Dates: June 11-15 (day camp)
Registration Deadline: Friday June 2
Tuition: $225 (scholarship available for Reduced/Free Lunch)
Registration Fee: $25 (waived if registering by May 12!)
Age: rising 6th grade through 2023 HS grads
Eligibility: Must have two years of playing experience and note-reading ability
Special Repertoire: Students may bring a polished solo piece to perform (not required)
Lunch and snacks are provided!
CSA Strings Camp
Calling all strings players! Looking for a summer camp to hone your skills, learn some exciting chamber and large ensemble music, perform in Goshen College's Rieth Recital Hall and in downtown Goshen, and make friends with other musicians? Are you between 6th (rising) and 12th grade? Then the 2023 Goshen College Strings Camp is the place for you! Come join us Sunday June 11 through Thursday June 15 for a day camp at the Goshen College Music Center. The camp is hosted by the Goshen College Music Department and the GC Community School of the Arts, and all events on campus will be free and open to the public.
The 2023 Goshen College Strings Camp kicks off on Sunday June 11 with a Faculty Recital, featuring violist Dr Rosalyn Troiano and violinist Victoria Petrak, along with Piano Camp faculty Dr Matthew Hill, and Drs Luke and Mary Rose Norell. On Monday June 12, Piano Camp Guest Artist Kairy Koshoeva will present a recital. Guest instructors will offer special coaching and masterclass instruction to chamber groups and soloists. Students will be assigned both a chamber piece and a large ensemble piece to learn and perform over the course of the camp with fellow campers. Students who come to camp prepared with a solo piece to perform will have the opportunity to play in a masterclass. Student performances include a final large ensemble performance in Rieth Recital Hall (June 15), daily masterclass performances for guest and camp faculty, and a special field-trip performance in a special location TBA (June 14).
Each morning, students will take part in music courses (Music History, Music Theory, and Musicianship), have individual and chamber music practice sessions, and engage in social activities around campus. The afternoons will consist of studio classes, practice sessions, and large ensemble rehearsal time, as well as special events, such as the guest masterclass, Piano Camp Guest artist recital, field trip performance and final camp recital.
Tuition is $225, with financial aid available for those who qualify for Free or Reduced Lunch. Lunch in the GC cafeteria and snacks are provided. The Registration fee is $25, but will be waived if registering on or before May 12. The Registration deadline is Friday June 2. Eligibility is rising 6th grade through 2023 high school graduates, with a prerequisite of two years of playing experience and note-reading ability.