Music Together Babies Classes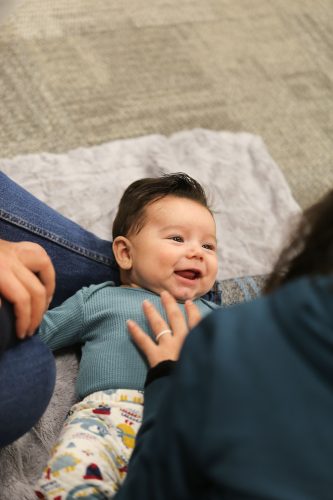 Goshen College Music Together is proud to offer outstanding early childhood music programming for children ages 0-5 and their caregivers. Since 2009, Goshen College has been a licensed center of Music Together Worldwide. GC Music Together offers mixed-age Family Classes for children and parents, Rhythm Kids for ages 5-8, free Babies Classes for infants up through nine months of age and parents, and In-School classes for preschools. These classes are offered at a variety of locations throughout Elkhart County, both at the GC Music Center and other locations like schools, churches, and community centers. Horizon Education Alliance has been a key partner in sustaining the Free Babies Class program for Elkhart County families.
This year, GC Music Together began a new partnership with the Tolson Center for Community Excellence. Located in the heart of south-central Elkhart, the Tolson Center has been a significant  hub of community life for decades, named for visionary African-American community leaders Herbert and Ruth Tolson. After nearly being shut down in 2018, the Tolson Center has been revitalized under a new board of directors, with a new building set to open in November 2023. The new Tolson Center for Community Excellence will offer programming for all ages with a focus on education, recreation, and cultural exchange.
Partnership with the Tolson Center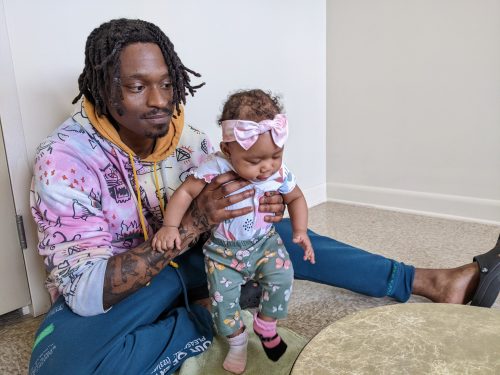 Goshen College has been an early partner of the Tolson Center, launching programs together early in 2023, even before the new building was completed. The GC Music Center has paved the way for this partnership, launching two initiatives in conjunction with the TCCE: the Tolson Youth Choir and a new set of Music Together classes in the Tolson neighborhood.
In April, Goshen College Music Together began offering a Free Babies Class in partnership with the Tolson Center and the Minority Health Coalition of Elkhart County. Located just across the street from the Tolson building site in the Washington Gardens housing community, the MHC's community doula program played a key role in inviting families to take part in the new Music Together class. Now with the opening of the new Tolson building, Music Together classes will be some of the first programming offered in the new space.
In addition to Babies Classes, GC Music Together will also serve the Tolson community with an In-School Music Together class at the TCCE. Tolson will serve as a central hub for children and teachers from several local daycares to come together for music classes on weekday mornings. Music Together In-School programs have seen great success in reaching children at a crucial juncture right before they enter Kindergarten, helping them develop the skills that will help them thrive as they enter school.